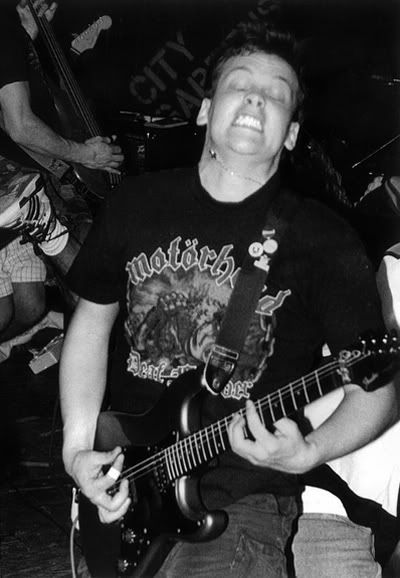 [Pagan Babies photo: Ken Salerno]

This is part of an ongoing piece where we asked various people from bands over the years what they recall as the most memorable show they ever played (or attended, if they were never in a band), and why. What is posted here is only a sliver of what is to come, so be sure to check back. -DCXX

Wow... not an easy question to single out one moment in time in relation to the bands I've been in. At this point in my life all of it means everything. Hardcore was, is and will always be part of me, the bands I was in and the shows I went to and the relationships that were forged remain vital. I've had such good fortune with the bands that I was a part of (Pagan Babies, BRICKHOUSE, a short stint with Starkweather and now THE HEELS). What I mean by good fortune is that we shared the stage with so many great bands. Social Distortion, The Exploited, WarZone, Underdog, Youth of Today, 7 Seconds, Marginal Man, Uniform Choice, Raw Deal and Killing Time, Supertouch, Crumbsuckers, Gorilla Biscuits, Dag Nasty, Side By Side, 76% Uncertain, Gwar, Token Entry...the list goes on.

One show that stands out was when Pagan Babies was on tour and we played a show in Reno, NV in the basement of the local Punk Rock record store. It was a small room with no stage and they packed in about 100 kids. I seriously doubt anyone knew to much about us but they were there to support their local scene and any bands that were in town. Whatever was in the water or air that day it just all came together in what can only be described as a Hardcore love fest, we killed it and they loved us. Perfect show. In addition we were introduced to a whole new breed of animal: the Reservation Indian Skinhead. You heard me.