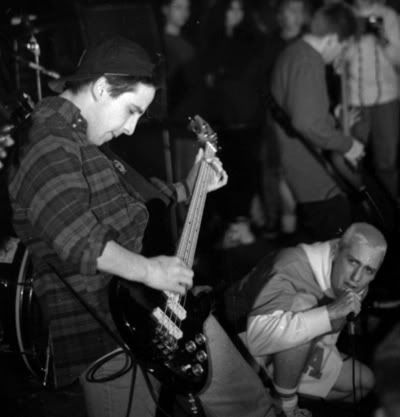 Carl and Jules with Alone In A Crowd at The Anthrax, Photo courtesy of: Jules

With some sadness we bring you the final installment of our interview with Jules from Side By Side / Alone In A Crowd. I strongly urge you to check out the previous installments if you missed anything. You can check the links below.
Part 8
Part 7
Part 6
Part 5
Part 4
Part 3
Part 2
Part 1
Tim and I have gotten to do a lot of cool stuff on DCXX, but this interview and the accompanying charity auction for the people of Japan is not only my favorite thing we've been involved with, but the most meaningful thing we've done with this site in its 3+ year lifetime. Thanks again to those who bid on Jules' records...we brought a significant amount of money to the Japanese Relief Effort. Of course this wouldn't have been possible if it wasn't for Jules selflessly donating all of his own records in the first place.

I also want to say thanks again to Jules for taking the time to do this interview. This guy is total class. He put hours of thought and reflection into this, and treated us (total strangers) like old friends. If you are even a passive fan of his bands and the NYHC scene of the late 80s, then I'm certain you enjoyed this on some level.
He may have walked away from the hardcore scene years ago, but his voice still powers on. -Gordo DCXX



Jules and Lars with Side By Side at The Anthrax, Photo: Boiling Point

By 1989 I was working on passenger vessels in New York Harbor as a deckhand. I hadn't done very well in high school, and my only educational options at the time were schools with open admissions. I wasn't hanging out much down on the Lower East Side anymore. Alone In A Crowd was done, and Brian Simmons up in Rhode Island had control of the record sales and distribution.

I don't know who approached me to do a Side By Side "reunion" show – I want to say it was Sammy. Anyway, there was a big fundraiser for Roger Miret at CB's at the beginning of '89, and I guess someone got it in their head that Side By Side should get back together for this one event. Roger was a friend, so I had no problem doing the show. I honestly cannot remember the lineup, if we played with Billy or Lars – or if we even had two guitars. We rehearsed once or twice at Sammy's dad's warehouse. Sammy was playing a double kick by then.

CB's was packed for the show, I want to say something like 12 bands played. Side By Side's set was disappointing, to me at least. First off, the scene had changed. During the show, it was almost like every band had a different crowd and each set would bring an entirely separate group of kids to the pit. In and of itself that's not that unusual for such a big show. You're Only Young Once had been out for a while, and I guess a lot more kids traveled to come and see Side By Side. But something was missing – it wasn't the close-knit scene it had been. I remember talking about vegetarianism at one point, and getting an extremely cold reaction from everybody except the kids right up front. Rather than the (albeit begrudging) tolerance of '86-'87, there was palpable animosity between different "cliques."

Anyway, the set itself was nothing to write home about. I remember Roger being on the side of the stage when we played "Friends." I went up to him during the chorus, put the mic between us and... nothing, he totally didn't sing along. It's not like the words were that hard... I looked at him like "come on, this show is for you, the song is called 'Friends"... help me out here!" Nothing. That was kind of awkward. Towards the end of the set, we played "Side By Side." I couldn't bring myself to do the intro "rant" that I usually did before playing that song. I looked out and didn't particularly like what I saw, so I kinda quietly said the line "I see people all around me, all with visions of unity, but what I have yet to see is visions turned to reality." It was a total downer. If I can pinpoint a moment when I "left the scene" – it was there on stage at CB's – I was done.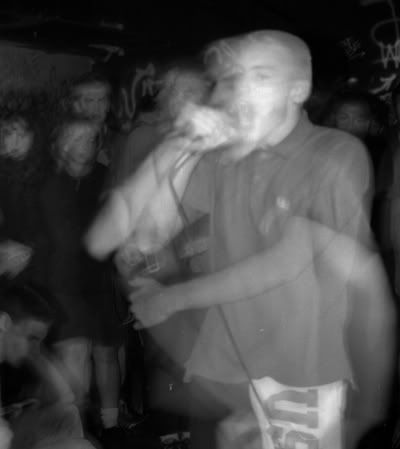 Jules with Alone In A Crowd at The Anthrax, Photo courtesy of: Jules

And that, I guess, gets us to the "life after hardcore" part of the routine. As I said before, I put in my time on boats and eventually got a limited license from the Coast Guard. I would work for a few months at a stretch and then go to the City College of New York for a while. I ended up a captain on the Schooner Pioneer out of the South Street Seaport.
Sometime in the early 90's I bumped into Raybeez down by the Pioneer (I have no idea what he was doing down there). The boat was about to take a trip, so I invited him along. Underway, he started telling me about his time in the Navy and how he wanted to eventually move to St. Thomas. All this time I knew Ray, he never said anything about any of this stuff. He wanted to learn how to sail. So he started volunteering a little on the boat. He kind of freaked the passengers out, with the tattoos and his lack of eyebrows – but Ray was into it, at least for awhile. After he stopped coming down to the boat, I never saw him again. R.I.P.

I eventually transferred to the SUNY Maritime College, a merchant marine academy in the Bronx. Rich Giannone, the drummer for Maximum Penalty, was a cadet there as well. His nickname there was Sarge, because he had been in the Army before enrolling. It was a military school, we were drilled by Marines (who were training to become drill sergeants at the adjacent reserve center), and we shipped out on a training ship for three summers to get sea experience.

On the summer training cruises, every July 4, the ship would be in the middle of the Atlantic, and there would be an open mic "ship's show." It could get pretty elaborate – cadets were always bringing amps and drum kits on the ship. So, on my senior cruise, I got a couple of guys to play a few songs with me for the ship's show. We called the "band" The Buddy#@$%ers (deletions in the original). We opened with Dag Nasty's "Safe," then played Van Halen's "Mean Streets," and finished with a gag version of "Rock The Casbah." It was not a hardcore crowd, of course – so we had to tailor our set list – but it was pretty cool singing Dag Nasty over the PA in the middle of the ocean.

When I graduated I worked as an officer on tugboats in New York Harbor and up and down the East Coast – but I was looking for a ship the whole time. I picked up my first ship in Africa – it was a cruise ship being used as a floating college called "semester at sea" (a year or so after I signed off, they filmed a season of "Road Rules" onboard). On that ship I went all over the world – including places like Western Samoa, where I had to repel boarders. The ship was attacked by Samoan transvestites (I'm not kidding -- after that the ship was provided police protection).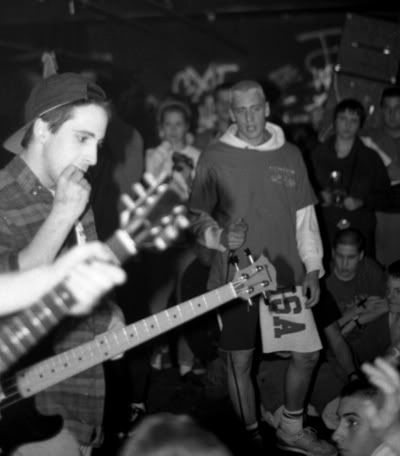 Carl, Jules and Lars with Alone In A Crowd at The Anthrax, Photo courtesy of: Jules

After that I worked on other cruise ships, but eventually ended up on Tankers, upon which I sailed 7 or 8 (maybe more) years. I also ended up as a consultant for a major cruise line, which had me living in a shipyard near Venice, Italy for a short period of time. That's where I met my wife – she was also staying there while the ship was being built. The next thing I know I had moved to Florida, and had a family. I eventually quit sailing because I was tired of being away from my family for months on end, and went to law school. It's not a career choice I ever dreamed about as a kid, but it seemed like a good idea at the time.

Now I practice maritime law. I have three kids, girl, boy, girl. The two older kids are both drummers. They are all well adjusted, non-punk rock kids – doing well in school (the oldest is going to be a sophomore in college). Totally don't take after dad. Their success is altogether due to their incredible mother.

During the course of this interview, there was some interest expressed by others in promoting a reunion show, contributing to a book on the scene, and putting out more merchandise. My only response to these suggestions can be: No. A world of no. This interview is it for me. I am happy to have shared what I remember from "back in the day." But I have no desire to relive it. I was not a musician who lived to play (and keep playing). I am more than happy to turn hardcore over to the new hards. If my music still has any relevance, then kids can cover the songs and make them their own. Then it's real. Seeing a middle-aged lawyer singing a song he wrote when he was 16 is totally not hardcore, at least not in my eyes.

I always used to say that if Side By Side or Alone In A Crowd made a difference in one person's life, then it was worth it. The funds raised through the charity auction here at Double Cross will make a difference in many people's lives.
I don't think there can be a better testament to positive hardcore – then and now.



A sea bound Jules, Photo courtesy of: Jules