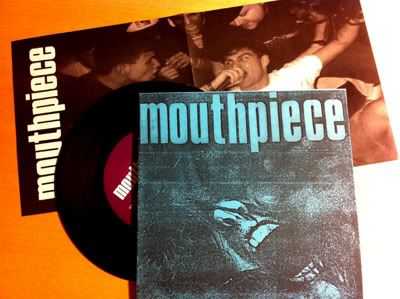 Gordo and I have been talking about some future projects here at Double Cross and I thought if selling off a few of my extra records could help fund the projects, I might as well do it. Both of these records are up on eBay right now and the auctions end 12/23/2010. Check them out if you're interested, thanks. -Tim DCXX

Double Cross eBay Auctions

Mouthpiece - 1st 7" Middlesex cover
I originally created and printed a small handful of these covers for a Mouthpiece show at Middlesex County College sometime around 1992. The idea was to create a limited cover to help sell the remaining copies that we had left over of our first 7".




After all these years, I've managed to hold on to the original paste-up artwork and just recently printed up 6 more covers. 1 of these re-printed covers went to a long time friend of the band that desperately wanted one for his collection. The other 5 copies went into my own collection and I used them for some extra copies of the 2nd pressing that I still had.

What you have here is one of those 2nd pressing out of my personal collection, with the limited re-printed Middlesex cover. I have no reason to own all 6 copies, so I thought I'd put one up on eBay for any collectors that might be interested.




Hands Tied - 1998 Euro tour limited PX cover pressing
For our 1998 European tour, we had 300 orange vinyl 7"s pressed and I created and printed these limited edition Project X style covers to go with them.

I held on to the last 4 copies (#297-300) of this Euro tour orange vinyl pressing and just recently dug up the original paste-up layouts and printed 4 more covers to go along with my personal copies. I stamped all 4 of my personal copies with a Double Cross stamp, to differentiate these re-printed covers from the originals (the originals were printed on an off-white paper, these are just white).

Again, I have no reason to own all 4 copies, so I'm putting one up on eBay for any collectors that might be interested.