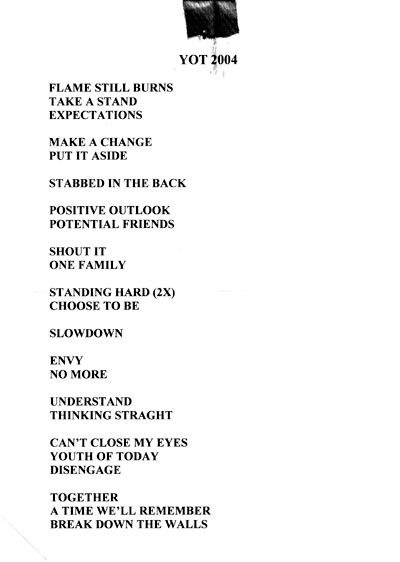 Youth Of Today

This is the start of a series of set list entries from DCXX contributor/Nickle City Stomp connoisseur, Larry Ransom. Enjoy these and stay locked in for many more to come. -Tim DCXX

I was working at Revelation Records in 2004 and they sent me out to this show to work the Rev merch table and to bring the Youth Of Today guys some records to give away on stage. If you catch me on the right day, Youth Of Today is my favorite band so it was awesome to sing along. This set list is from the second night of the two shows they played in Fairless Hills, PA in the summer of 2004...right down the street from the ole Puss 'N Boots. Every song is a winner here.


Wide Awake

In the late nineties I was still a very invigorated cormin and would drive just about anywhere, every weekend to see a show. At some point in 1998 Underdog and Wide Awake were playing two shows together. A Friday night at the Tune Inn in New Haven, CT and on Saturday at Coney Island High in NYC, and I made the trek down to Jeff Terranova's house in Carmel, NY and tagged along to the two shows with him and Steve Keeley. This Wide Awake set list is from the Tune Inn show.

The songs Redemption and Myths were new songs the band had wrote and recorded during their reformation and as I remember the new tunes didn't go over too hot when they played them live, as I am sure you could imagine. I believe they dropped them from the set the next day at the NYC show. They closed the night out with a cover of Dag Nasty's Justification.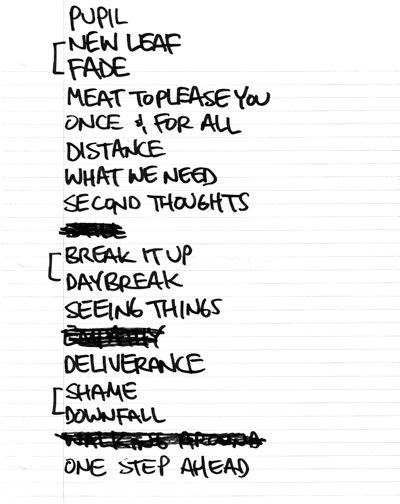 Up Front

Here's an Up Front set list I grabbed after one of the many times I saw them in '97 or '98. Not sure exactly what show this might be from. It would have to be from the Tune Inn, CB's, The Space in Worcester, MA or The Middle East in Cambridge, MA. Heck, it might even be from when they came out to Cali in '05. I bet Jon or Jeff might be able to chime in and provide the proper date and show for this thing. Don't fear the distance!