Timmy Chunks with Token Entry in Asbury Park NJ, Photo: Ken Salerno

Timmy Chunks - Token Entry

For me it would have to be Negative Approach "Tied Down" - it has everything that made me love this music. Aggression, intensity, and above all else an underlying emotion that things are fucked. It gives you a feeling of purpose when you listen to it. Even if that purpose is to say "fuck it, things suck!"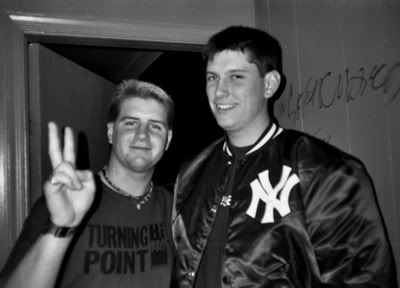 Darren Walters from Hi-Impact Records with Ken Flavell hanging out after a Turning Point set in DC, Photo courtesy of: Mikey Fastbreak

Ken Flavell - Turning Point / Shadow Season

My cousin Doug was the first person I knew who was into hardcore. It was 1983, and the closest thing to hardcore that I had heard was Generation X and The Clash. He said "I'm going to hook you up!" In the mail comes a cigar box filled with homemade tapes from his vinyl collection. No lyrics, no artwork, just band names and incredible music.

My brother Chris and I wore those tapes out listening to them. It was a who's who of hardcore up to that point in time. There was this one band that stood out above the rest, it was the Bad Brains - Roir Sessions. All these years later, of all the bands, they are one of the bands I still listen to today!

For my later years as hardcore evolved, I have to go with Uniform Choice - Screaming For Change and the Embrace LP. Ian's best work in my opinion.

I have to add the Adolescents self titled LP, too. Kids Of The Black Hole is one of my favorite hardcore songs of all time. This record is what hardcore is all about.



Ian, Brian and Steve with Minor Threat, Photo courtesy of: Dischord

Steve Hansgen - Minor Threat

The Bad Brains Roir album, released in 1982. Perfect then, perfect now. Even the reggae is good! And the punk rock...never truly equaled by anyone.