The infamous Youth Of Today - "Crucial Times" 7"

In a very odd and almost unexplainable occurrence, I literally found on my basement floor, what just might be the most interesting and rarest version of the Youth Of Today "Can't Close My Eyes" EP.

If you think back to the cover of Schism Fanzine issue 8, with that jaw dropping, all glorious record collection collage photo, you'll recall that on the inside of the cover, where they listed every record included in the photo, there was a Youth Of Today "Crucial Times" 7" listed. Now if you were like me, when I noticed that listed record, you did a whole lot of head scratching. After some research, we found out that what was seen on that cover and listed, was basically a hoax, or at least a 7" that didn't actually exist.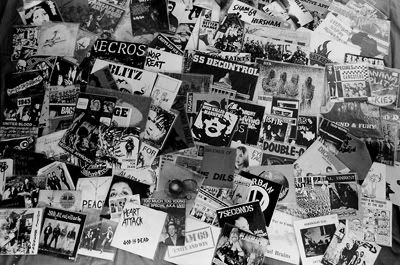 Schism Fanzine issue 8 cover photo

What the Youth Of Today "Crucial Times" 7" turned out to be, was an original cover concept drawn by long time Anthrax club flyer artist, Jim Martin in 1985, but was essentially rejected by the band. Basically one of the YOT guys took that original drawing and glued it to the cover of a "Can't Close My Eyes" EP and threw it into that collage of records that ended up on the cover of Schism 8. I assume one of the Skiz guys thought it would be interesting to list the record, and throw off a ton of people. Well I for one was definitely thrown off.

Now here's where I start scratching my head again. This past Saturday, I'm down in my basement, where we just had some construction done over the past 3 days. I'm walking around, checking out the work that had been done, when I notice on the floor, below a pile of other stuff that's been stacked and stored in a basement closet, a 7" with a black and white, hand drawn cover, lying on the floor. I walk over and pick it up and discover that it's indeed the infamous Youth Of Today "Crucial Times" 7".



Take note of the highlighted Youth Of Today - "Crucial Times" 7' on the cover of Schism 8

At first thought, I'm thinking it's a xeroxed copy of the original drawing, still not knowing how it ended up in my house and on my basement floor. Upon further inspection, I discover it is the actual, original drawing and 7" stored in a standard plastic 7" sleeve. I start thinking and questioning to myself, how I have this and where it came from. But some how or another I'm thinking that the only possible and logical answer is that I must have gotten it from Ray Cappo when buying some records off of him in the late 90's. Some how I'm guessing it got separated from the rest of the records, stacked in a pile of stuff and stored for the past 15 years. I'm assuming, with all the construction that's been going on over the past 3 days, the record was shaken loose from a pile and simply fell to the floor. But honestly, I'm still not exactly sure.

What I do know, is that what I have is the original hand drawn artwork by Jim Martin, which has been glued to the cover of an actual "Can't Close My Eyes" EP cover. Inside that cover is an old black and white Youth Of Today sticker and a Ray Cappo/Becky Tupper prom photo (which really leads me to believe this was Ray's). There's also a Batman stamp on the 7" dust sleeve, a lyric sheet and a black vinyl 7" inside. Pretty damn cool and quite possibly my oddest hardcore record find ever. -Tim DCXX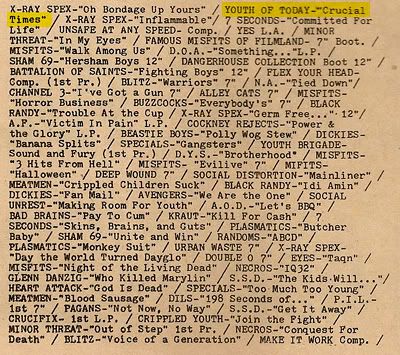 The Schism 8 record cover collage listing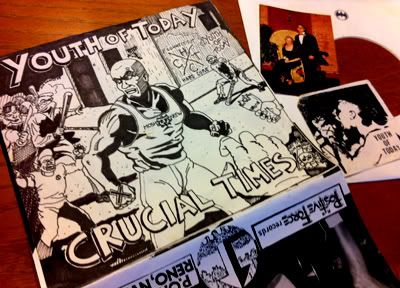 Another shot of the "Crucial Times" cover and what was inside